This has been a week of Ayano Yamane love and I can't ask for anything more as a yaoi fangurl...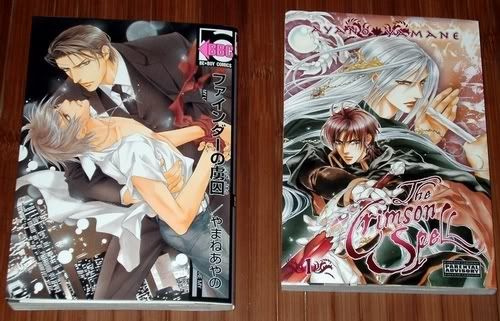 VIEWFINDER
Just when I thought of an Asami- Akihito reunion...DARN! When all of this is over I want to see a beautiful reunion between my favorite seme & uke. It has been a tough time for Aki *sob*. This boi needs lot of lovin when he gets back with his seme *sigh*. I wonder how that tatoo will come off.

THE CRIMSON SPELL
Have to get used to the characters names. Everytime I read Bald it makes me think someone's hair is falling off. Oh well, different names but same hawtness in the smexin *faints*. I love the cover, the color pictures & the quality of the paper. My only complaint is that there should be a margin on the pages so that the panel doesn't get cut off.

My daughter talked me into buying the "Cooking Mama" Nintendo DS game. It's a lot of fun. Plus it's a great way to practice Japanese food cooking LOL.